keeping it simple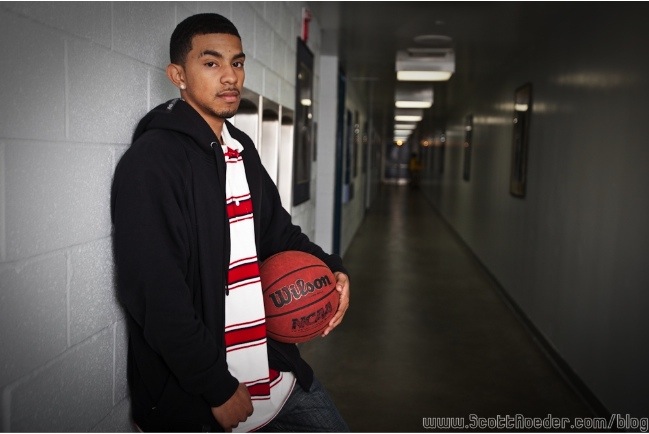 Nikon D3, 70-200mm @ 34mm, 500iso, f/2.8, 1/180, manual
UCI Men's Basketball guard Michael Hunter poses for a quick photo before warming up to play UC Riverside.
I took an assignment to shoot a feature photo of UCI Basketball player Michael Hunter. We tried to get some time with him by contacting the communications person that handles Men's Basketball, but because of the short notice they said that there wasn't any time. I decided that I would catch Hunter sometime before the game. I got there a few hours before the game when the team was shooting around and let him know that I needed to get a quick shot of him before the game.
While he was gone I set up one softbox in the narrow hall where the locker rooms are. I didn't have much room to work with and I wanted to keep it simple. I had two photographers, Lee and Rashmi, helping me setup. In the photo below, Rashmi stands in and tries out a few poses.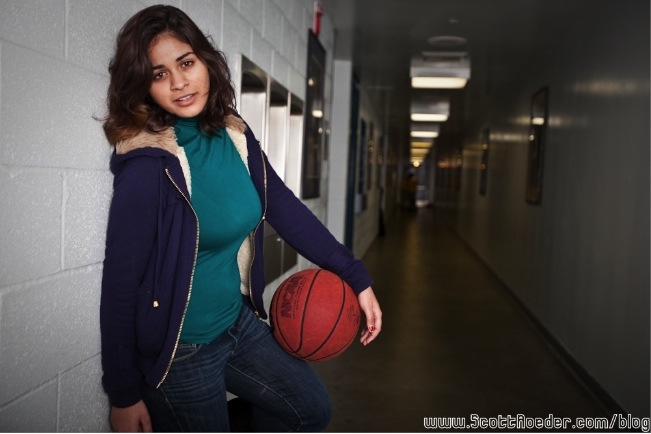 Nikon D3, 70-200mm @ 35mm, 500iso, f/2.8, 1/180, manual
About an hour before the game Michael came back to the Bren Events Center and everything was already set up. I already had the pose decided and all he had to do was stand in. I did the first shot with just his street clothes on.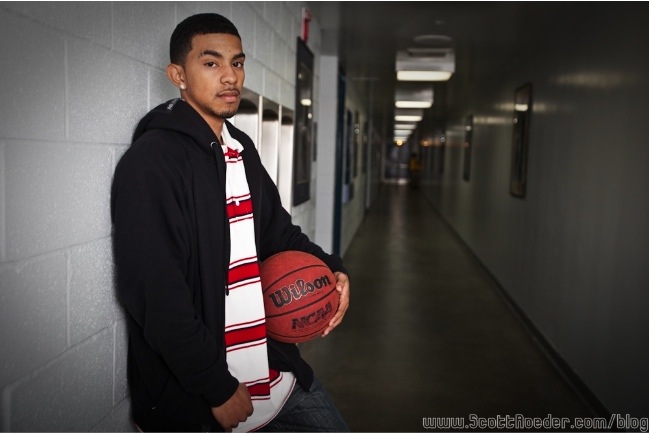 Nikon D3, 70-200mm @ 34mm, 500iso, f/2.8, 1/180, manual
After a few shots, he went into the locker room and changed into his uniform. When he came back out we took a few more shots. This is the shot that ran in the paper, although I liked the previous one a little better.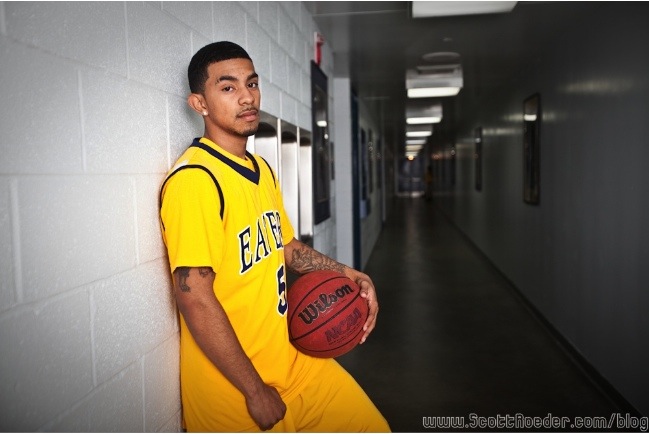 Nikon D3, 70-200mm @ 35mm, 500iso, f/2.8, 1/180, manual