pictures of pitchers…improvising & shooting under pressure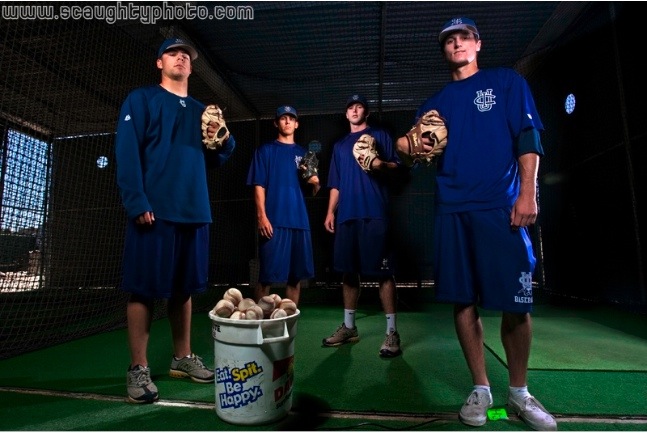 The last time there was a baseball feature photo for The New University was um….never? The whole time I have been a photographer with The New University there has never been a feature photo of a baseball player. From what I've experienced, the UCI baseball team is an exclusive club, and it is hard to get access.
The sports editor Umar texted me and told me that he wanted to do a feature photo with four of the baseball pitchers. It was going to be a star wars jedi themed shoot. It was all planned out. Light sabers and cloaks.
I had a few ideas about how I could shoot it, all of which required a lot of lighting equipment. I started to call around and see what equipment I could borrow from friends for the shoot. I was also depending on using my own lights.
On the day of the shoot, I went to the Bren Events Center to take down my lights from the catwalks. However, I was denied access to the catwalks because basketball practice was scheduled from 10am-4pm with no breaks. They told me that I would have to come back at 4pm, but my baseball shoot was at 12:30pm. Luckily Melissa Lee was willing to help me out and let me borrow her lights. Then I found out that I wasn't going to be able to get the light sabers or cloaks for the shoot. I tried to come up with ways I could still save the jedi theme, but with lack of lights and no props, I decided to scrap the whole idea. I was just going to go and come up with something on the spot.
We met up at the baseball field at 12pm. With both of our hands completely filled with equipment, we headed in towards the UCI dugout where I could see Fumi, one of UCI's assistant athletic directors and the baseball team's media representative waiting for me. Fumi is nice but from my experience she is all business when it comes to the baseball team. I was told that I had 30 minutes, and I knew I wouldn't be able to push it like I do with a lot of the other sports. It was clear skies and the sun was shining down on just about everything. I saw that the batting cages were near by so I ran over to check it out. I decided that it would be the best place to shoot and started bringing all the equipment over. Melissa and I hurried as we set up the light stands, lights, and got everything hooked up and synced. The whole time we were setting stuff up, Fumi was coming over and asking us if we were ready. I kept telling her we were almost there. Below, Mellisa Lee stands in for the first test shot.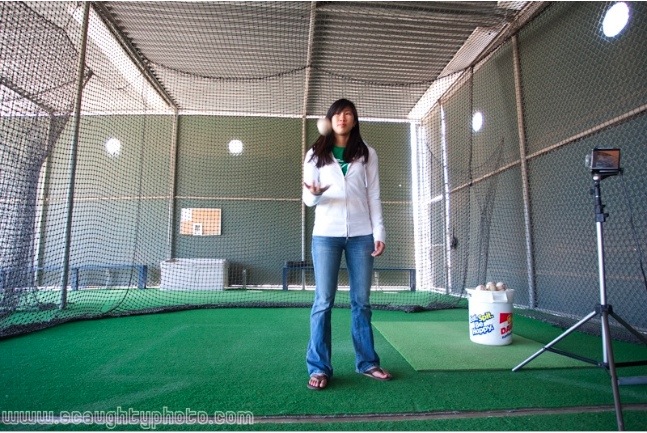 Canon 1D Mark IIn, 17-40mm @ 17mm, 400iso, f4, 1/30th
I knew that with only two lights it would be hard to light four people. That is why I brought my tripod. As a backup plan, I planned to shoot each person individually and then create a composite in post-production. By shooting each player individually I could light each person with two lights and get the look I was going for. And this is exactly what I did. Below, Melissa Lee stands in for the second and final test shot.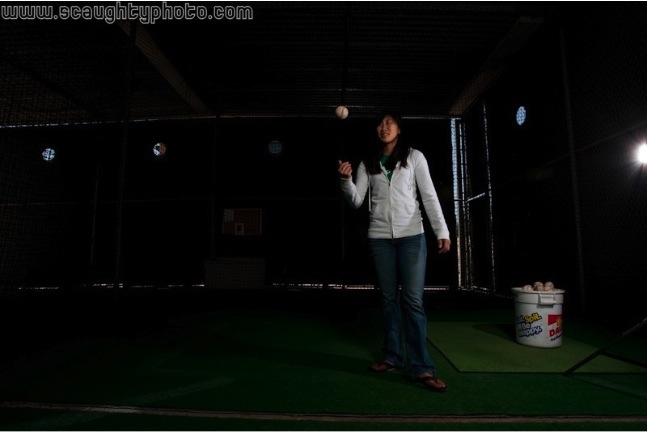 Canon 1D Mark IIn, 17-40mm @ 17mm, 100iso, f10, 1/200th
After making some last setting adjustments on my camera, I arranged the four players how I wanted the final photo to look. Then I marked where they were standing. After that I had all of them step out of the frame and I shot each person individually in the spot that I had them originally. I had Melissa holding a beauty dish in from of the players (which moved to a different position for each player) and then used the other lights as a back or side light.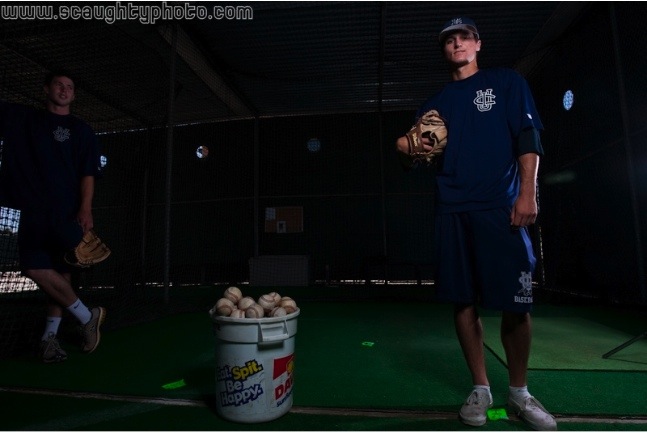 Canon 1D Mark IIn, 17-40mm @ 17mm, 100iso, f11, 1/200th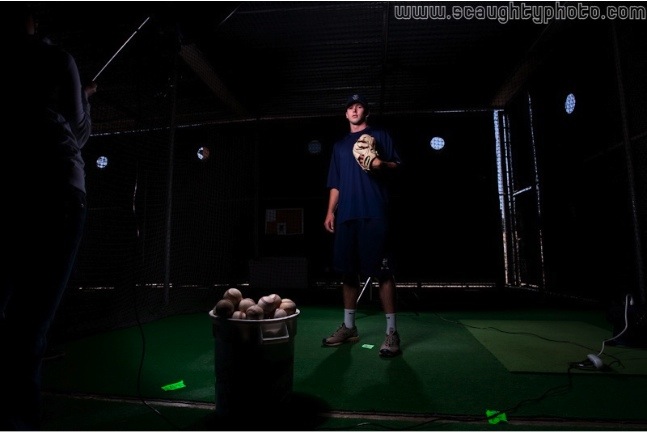 Canon 1D Mark IIn, 17-40mm @ 17mm, 100iso, f11, 1/200th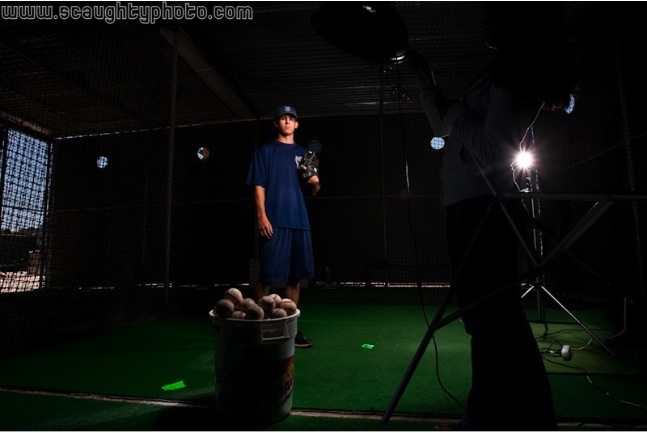 Canon 1D Mark IIn, 17-40mm @ 17mm, 100iso, f11, 1/200th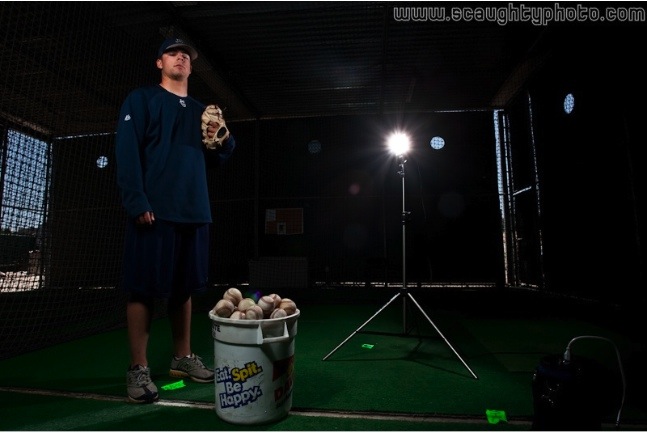 Canon 1D Mark IIn, 17-40mm @ 17mm, 100iso, f11, 1/200th
With the time pressure and lack of preparation, I really didn't have time to change anything. I took two or three shots of each player and confidently confirmed that it all looked good. They players seemed pretty cool about the whole shoot but with Fumi waiting by it felt like she was there to enforce a strict deadline.
I was unsure of how it would turn out but after uploading the photos to my computer, I knew that it would work out how I imagined it. This is the final photo that I submitted to the newspaper after some post-processing.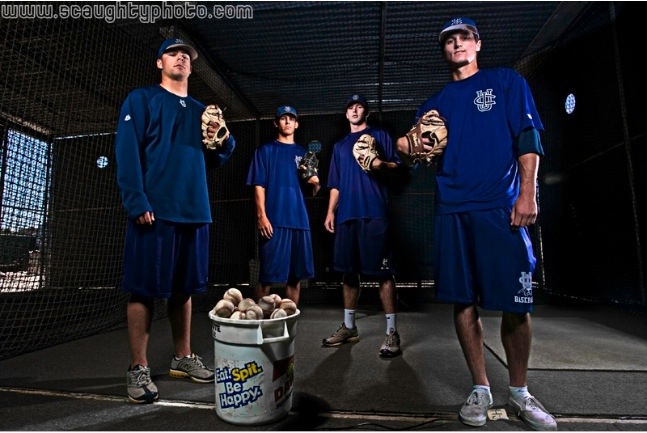 Canon 1D Mark IIn, 17-40mm @ 17mm, 100iso, f11, 1/200th
Till next time….