uci baseball, my first game this year, far from the last
UCI's baseball program is one of our biggest sports programs. When I think of spring quarter I think of baseball. I can always depend on there being a baseball article and a photo assignment to accompany it.
I always have trouble deciding where to shoot from. Third base photo well. First base photo well. Behind the batter. The clubhouse suite. Before the game I was looking through some baseball photos online and found an angle that I had never shot from. The angle is behind home plate looking down towards third plate. This angle would be used to get action happening at home plate. I didn't want to depend solely on getting "the shot" from that angle, so I set it up as a remote so that I could also shoot from a place that would guarantee more "keeper/safe shots". I used a magic arm and super clamp to secure my camera to a railing in the front row. The camera was set to aperture priority at f/2.8 to account for the light changing, because the game started at 6pm while the sun was out but ended at 9:30pm when it was dark. I prefocused on the plate, taped down the zoom ring, taped down the focus ring, and headed over to the third base photo well.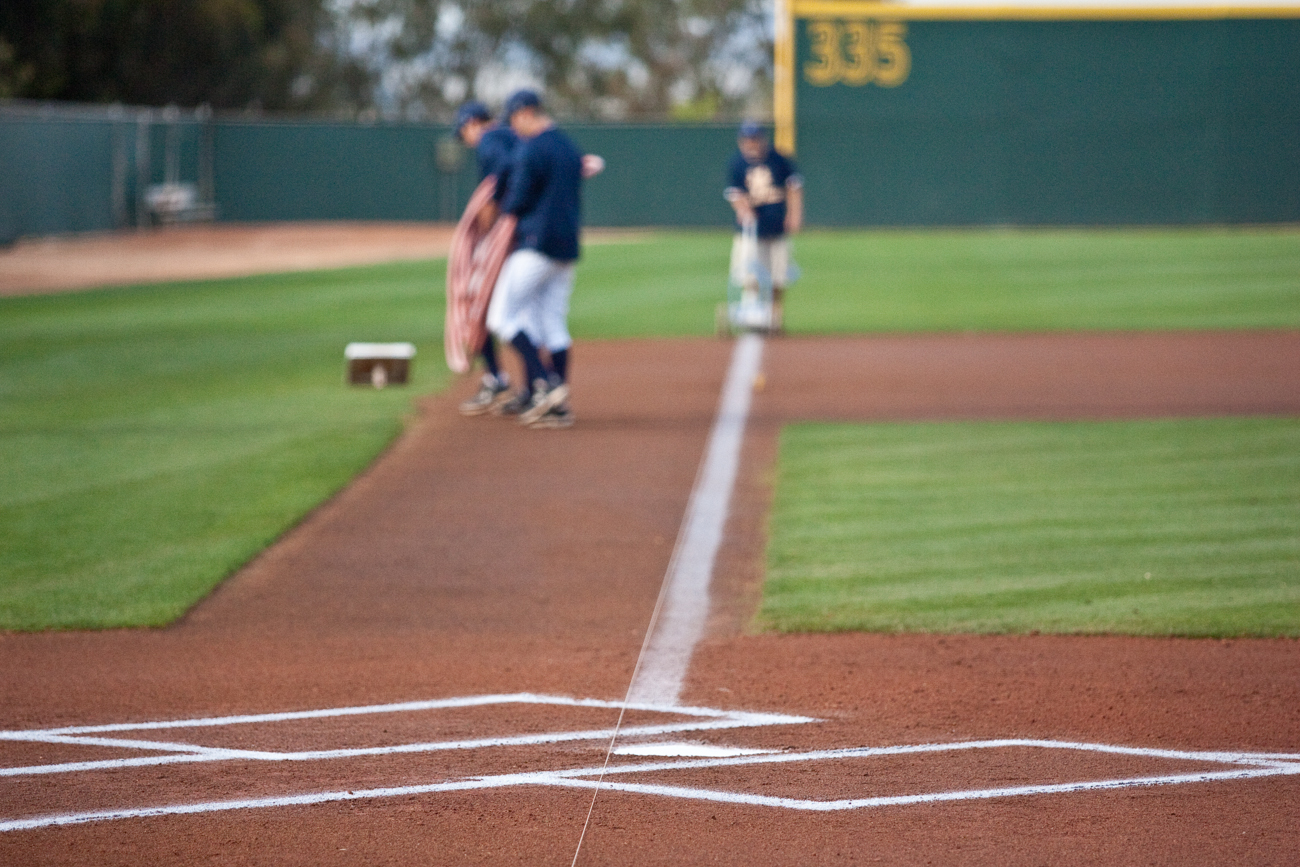 Canon 1D Mark IIn, 70-200mm @ 170mm, 1600iso, f2.8, 1/5000th
Here is a shot prior to the start of the game when the umpires get together and exchange some words before beginning to work.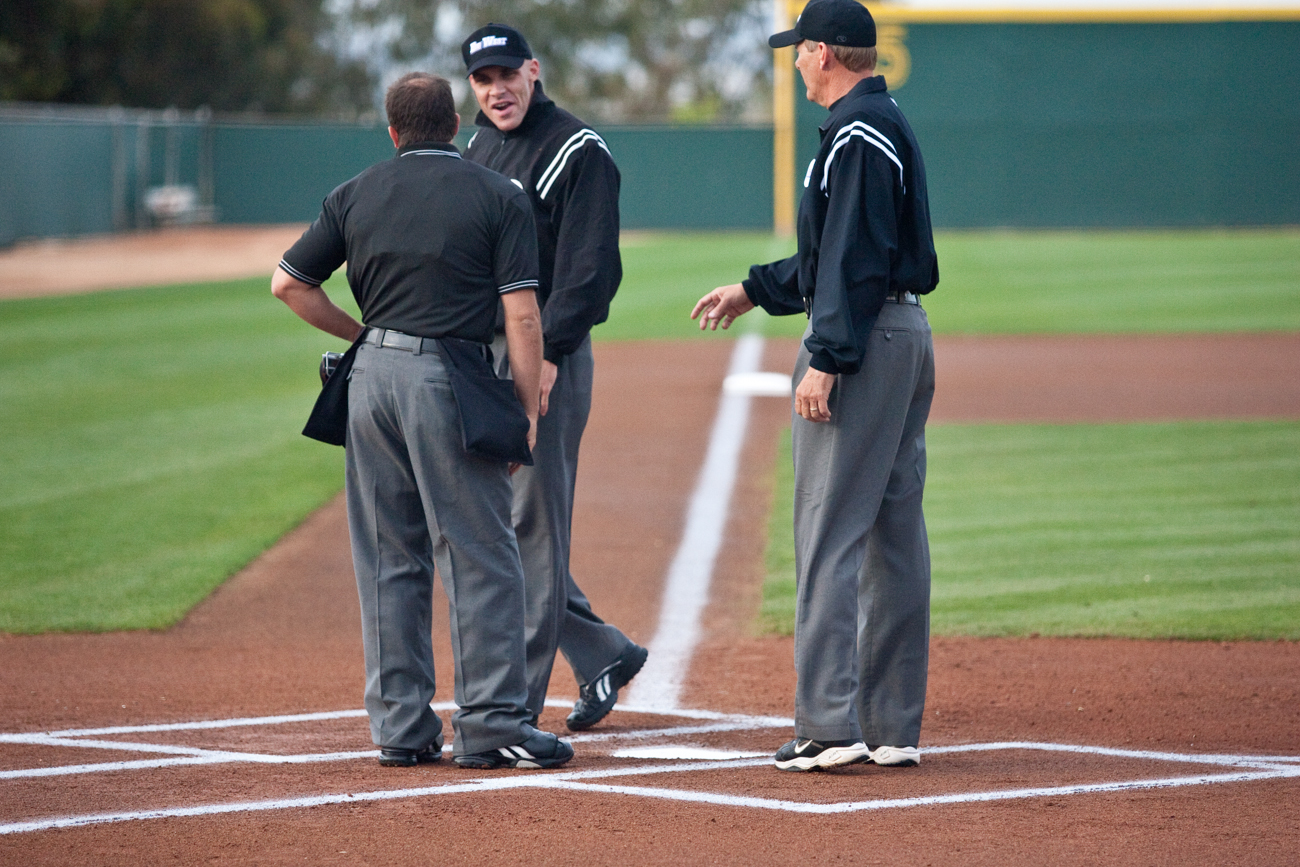 Canon 1D Mark IIn, 70-200mm @ 170mm, 1600iso, f2.8, 1/4000th
There was only one big play at home plate made by UCI the whole game. And I got it. The only thing is that a bunch of people got in the way and my focus was in the wrong spot. I should have focused a couple feet in front of the plate so that the players would be in focus as he was sliding in. I guess I can also try from a different angle and keep my focus on the plate.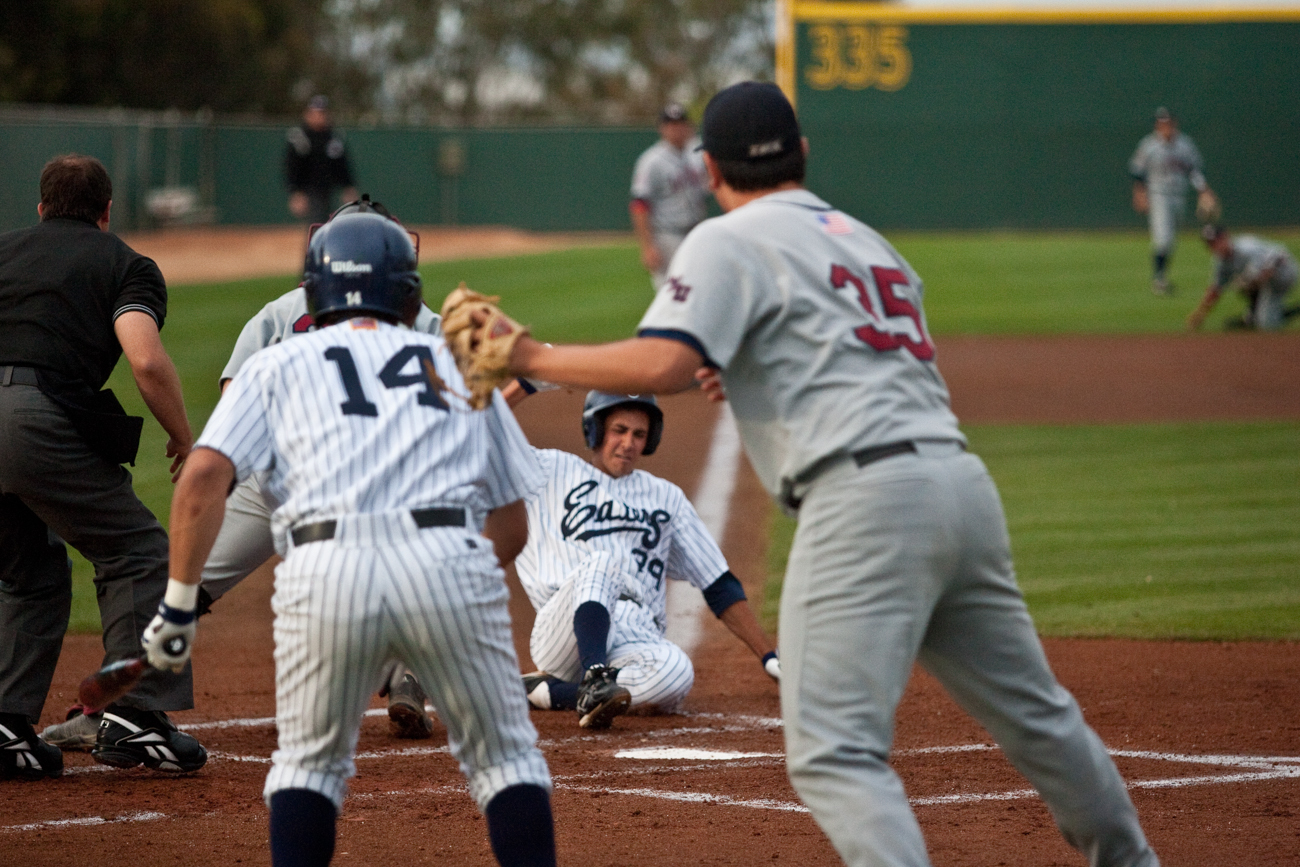 Canon 1D Mark IIn, 70-200mm @ 170mm, 1600iso, f2.8, 1/4000th
Trial by error I guess. I'm definitely going to try again at the next game.
I'm glad I at least have a 300mm to shoot with at UCI. With anything less, cropping in shots like this be unbearable. Cory Olson catches a ball that goes far into center field.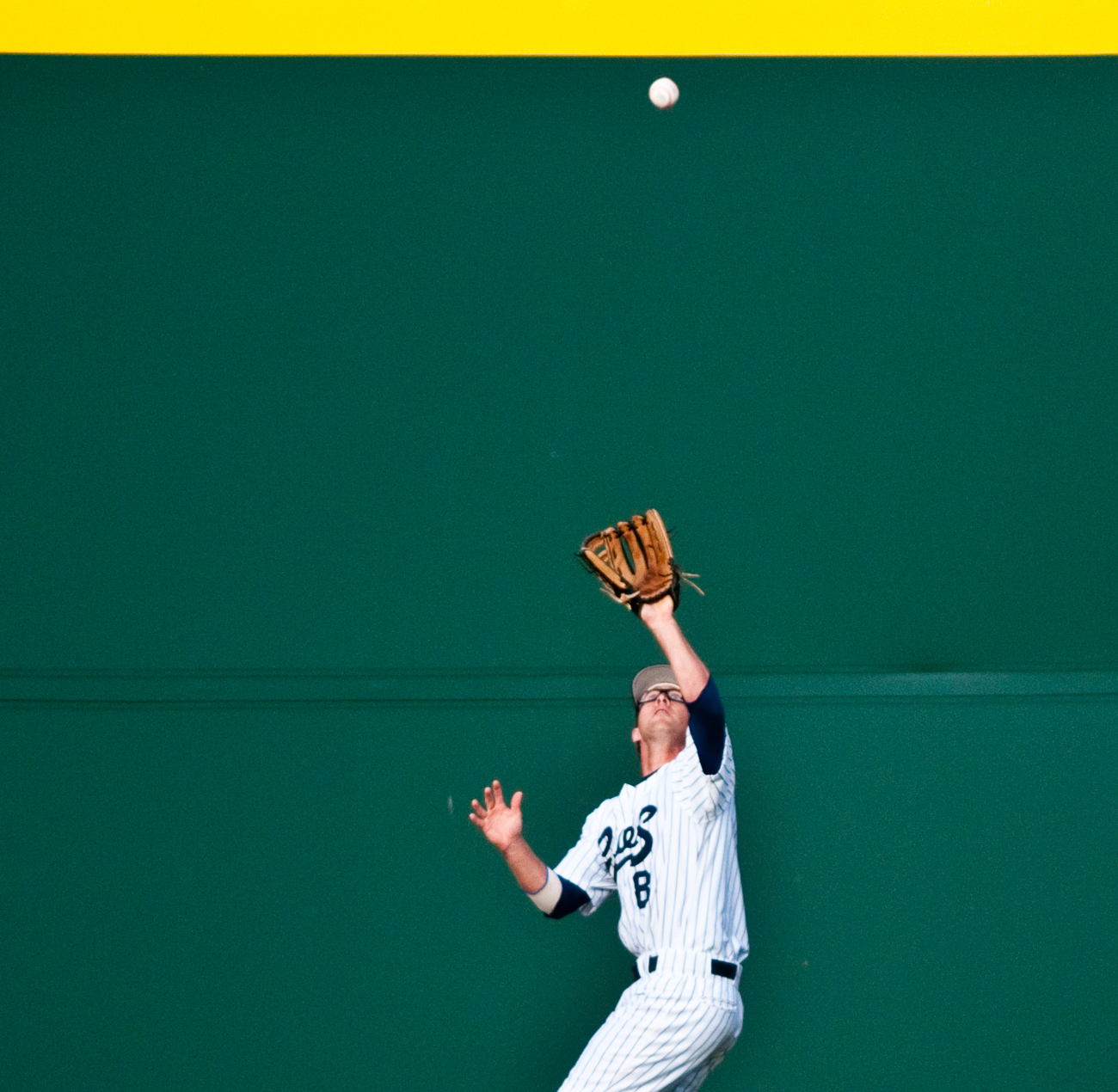 Nikon D300, 300mm, 400iso, f2.8, 1/2500th
In the past I have usually just stuck to the main action on the field but am trying to cover more aspects of the game. Associate Head Coach Pat Shine talks with UCI Freshman Tommy Reyes in the dugout.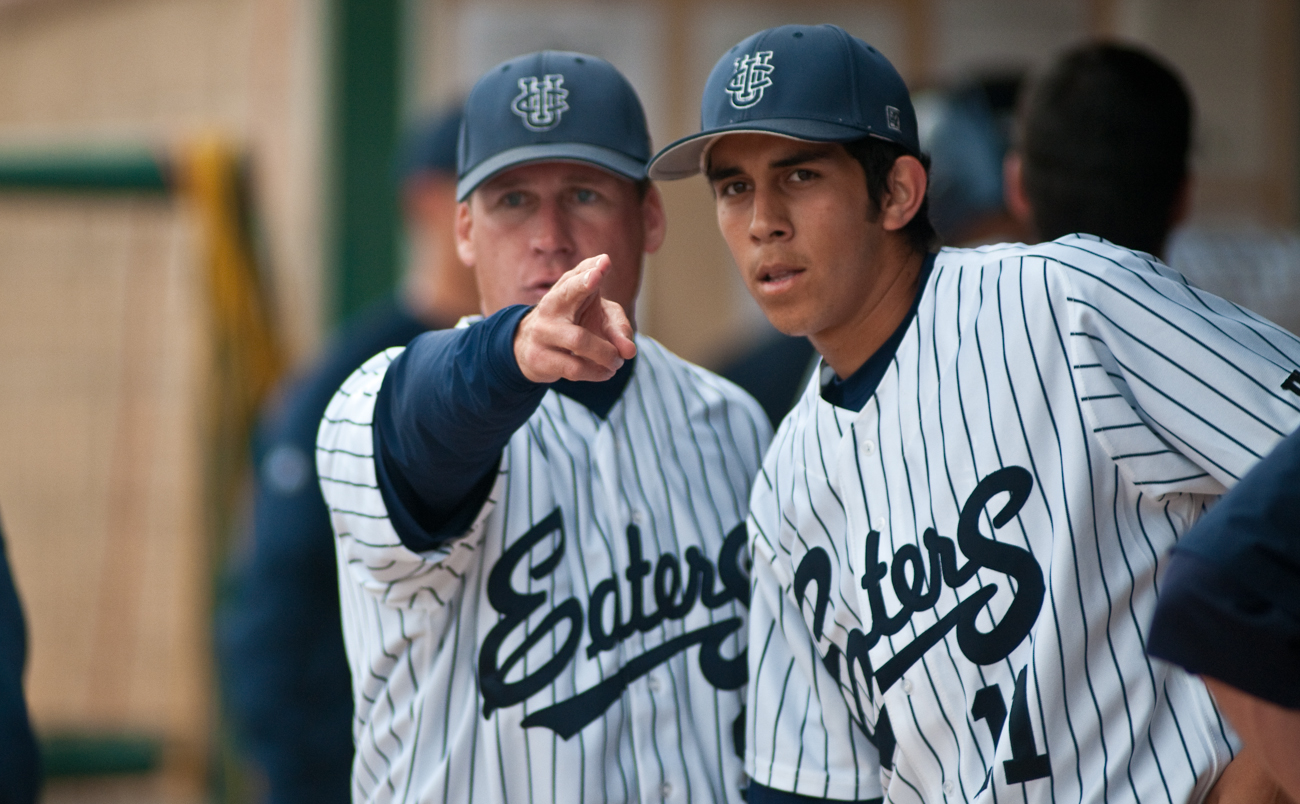 Nikon D300, 300mm, 400iso, f2.8, 1/800th
Heres a typical hitting shot. The first thing I do is get a "safe" shot just in case I don't get anything good. Eric Deragisch takes a swing at the ball.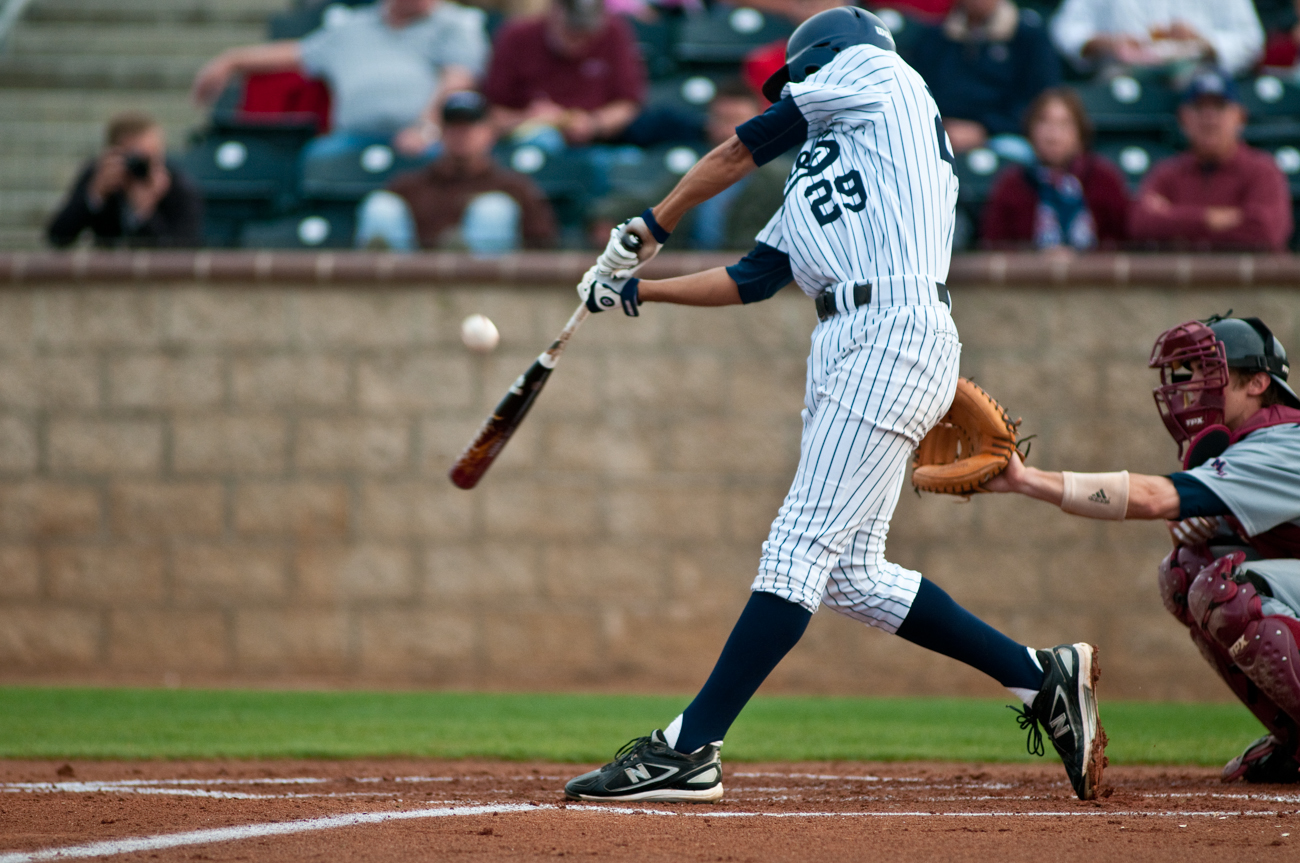 Nikon D300, 300mm, 400iso, f2.8, 1/1600th
Double plays are where its at. One of my favorite places to catch the action is at second base with a player sliding in and the second baseman catching the ball and trying to get it over to first. By far my favorite shot of the game was Cory Olson sliding into second base and getting a leg past his opponent as LMU fails at a double play.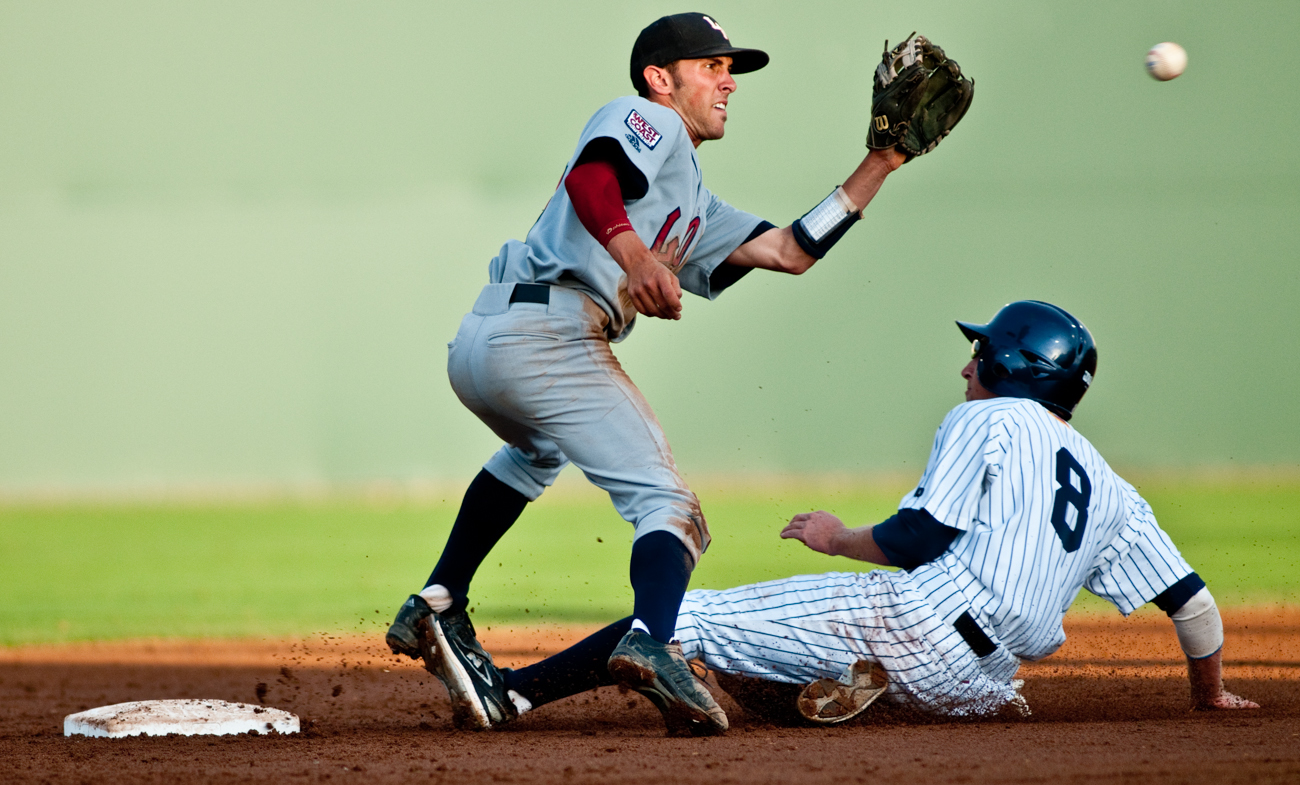 Nikon D300, 300mm, 640iso, f2.8, 1/1600th
Towards the end of the game I moved out of the third base well and went up to the top of the main seating area to get a shot of Ben Orloff signaling to the dugout as he waits for the pitch. I love clean backgrounds!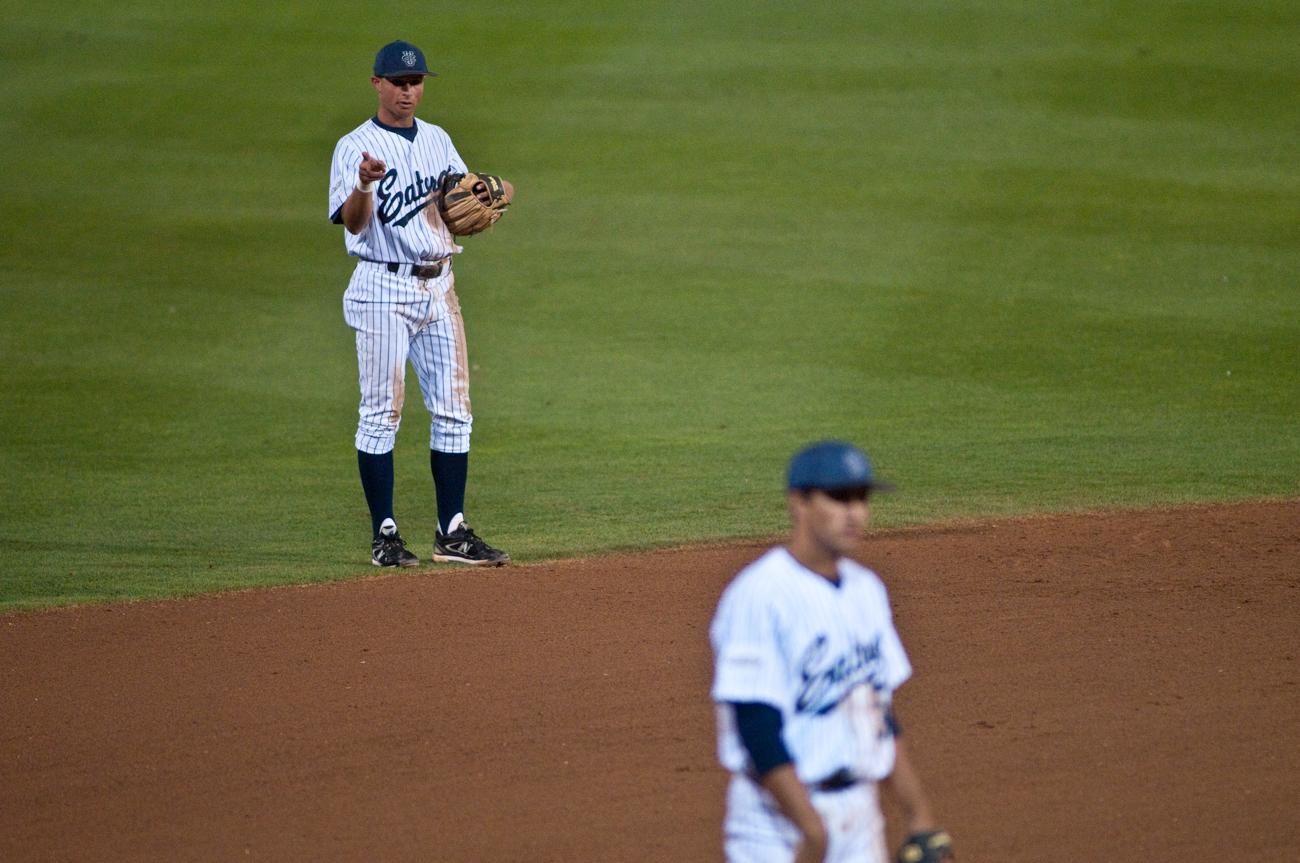 Nikon D300, 300mm, 2000iso, f2.8, 1/640th