UCI track stars, on-location group portrait
Last week I was called up by the sports editor to do a track feature photo. I asked him if it was more than one person and what event(s) they did. All he told me was that they "throw shit". I was currently swamped with school work and didn't have time to plan anything out so I went into the whole thing a little worried.
I was told to meet out on the UCI track at 3pm. I knew that if I was going to use any lighting it would have to be powerful since I was shooing in the middle of the day. At around 11am I headed over to the Bren Events Center to take down my strobes so I could use them for the shoot. I still had a vagabond portable power-pack in my truck that I had borrowed from a friend so I didn't have to worry about finding an outlet.
At around 1pm, after going to class and getting some lunch, I once again realized how much equipment I had to carry and set up. I quickly emailed the other newspaper photographers to see if anybody wanted to help out and then headed for the track. Not too long after I got a call from one of the newer photographers, Nick Vu, letting me know that he could come and help. I then began my first equipment trip from my car to the track. By the time I had arrived at the track from my last trip, Nick had arrived.
We took out the light stands, set up the lights, got everything hooked up to some power, and positioned everything in the approximate positions. Then, because all the athletes were not ready yet, I had Nick stand in for some test shots.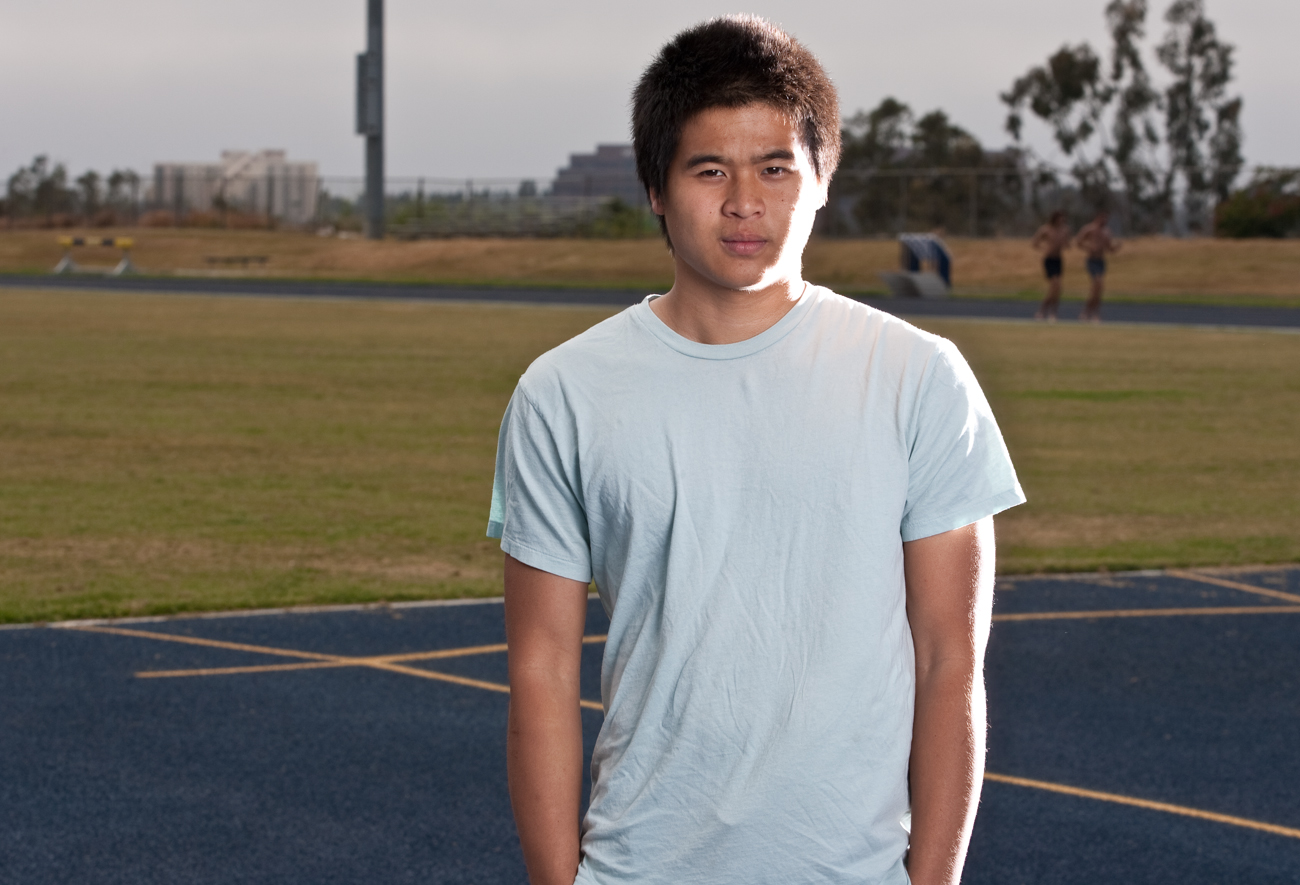 Canon 1D Mark IIn, 70-200mm @ 100mm, 100iso, f11, 1/250th
I wasn't pleased with how my test shots were coming out and couldn't get a good idea of how it was going to look with all four athletes. Once they were almost all ready, I had them all stand in (including Mark Ratto, the associate sports editor) to take some test shots.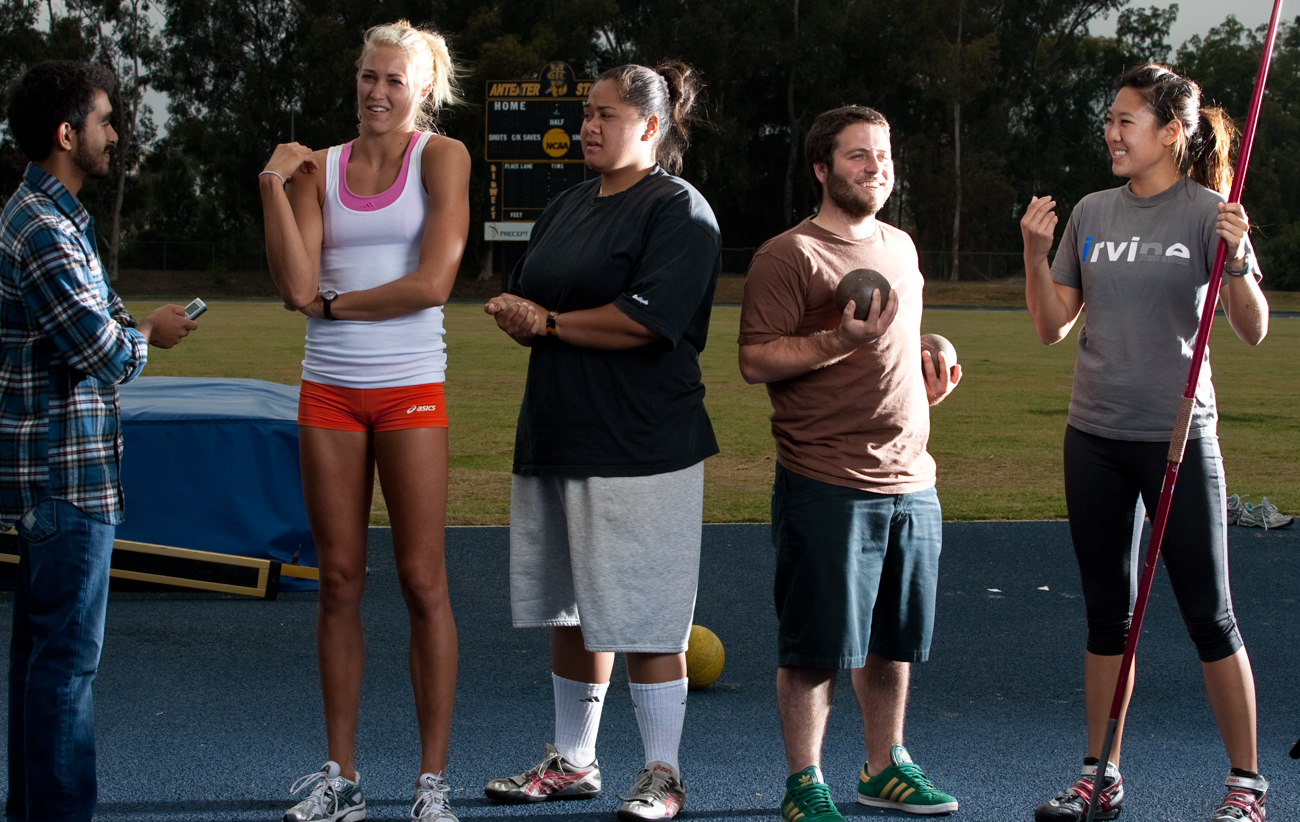 Canon 1D Mark IIn, 70-200mm @ 70mm, 100iso, f11, 1/250th
I still wasn't feeling it so I switch to my wide-angle zoom. Now that was much better. My side flash didn't fire either, which I didn't mind seeing as that it kept blowing out the sides of their faces.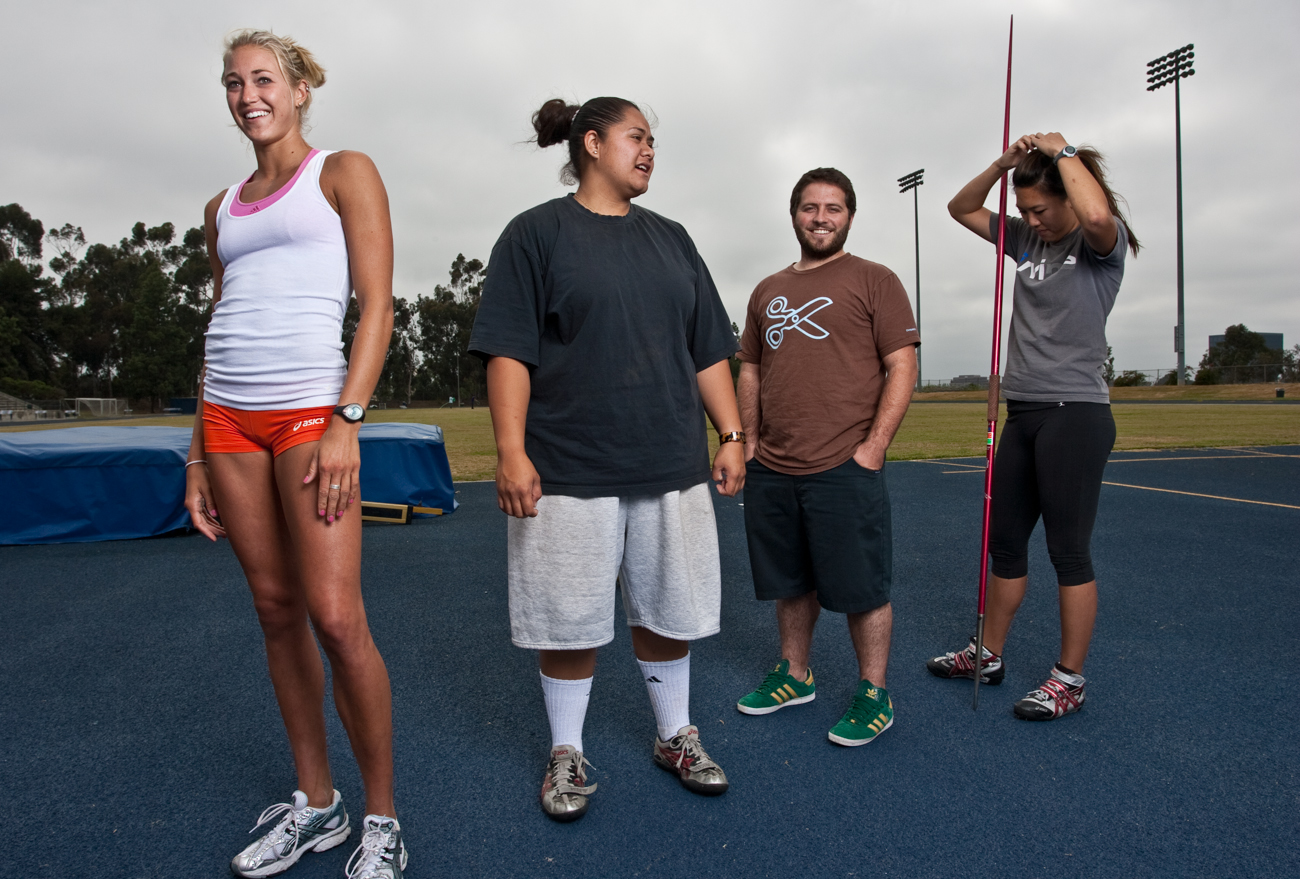 Canon 1D Mark IIn, 17-40mm @ 21mm, 100iso, f11, 1/250th
After they were all ready we got them their props and I arranged them how I wanted them to stand. I made a last minute adjustment and moved a light directly behind them because it didn't seem to be doing much from its current position. This is the shot that ended up running in the paper. From left to right, Lauren Collins (heptathlon), Alisia Misiata (Shot put), Matt Lahti (Hammer throw), and Jenny Lee (Javelin).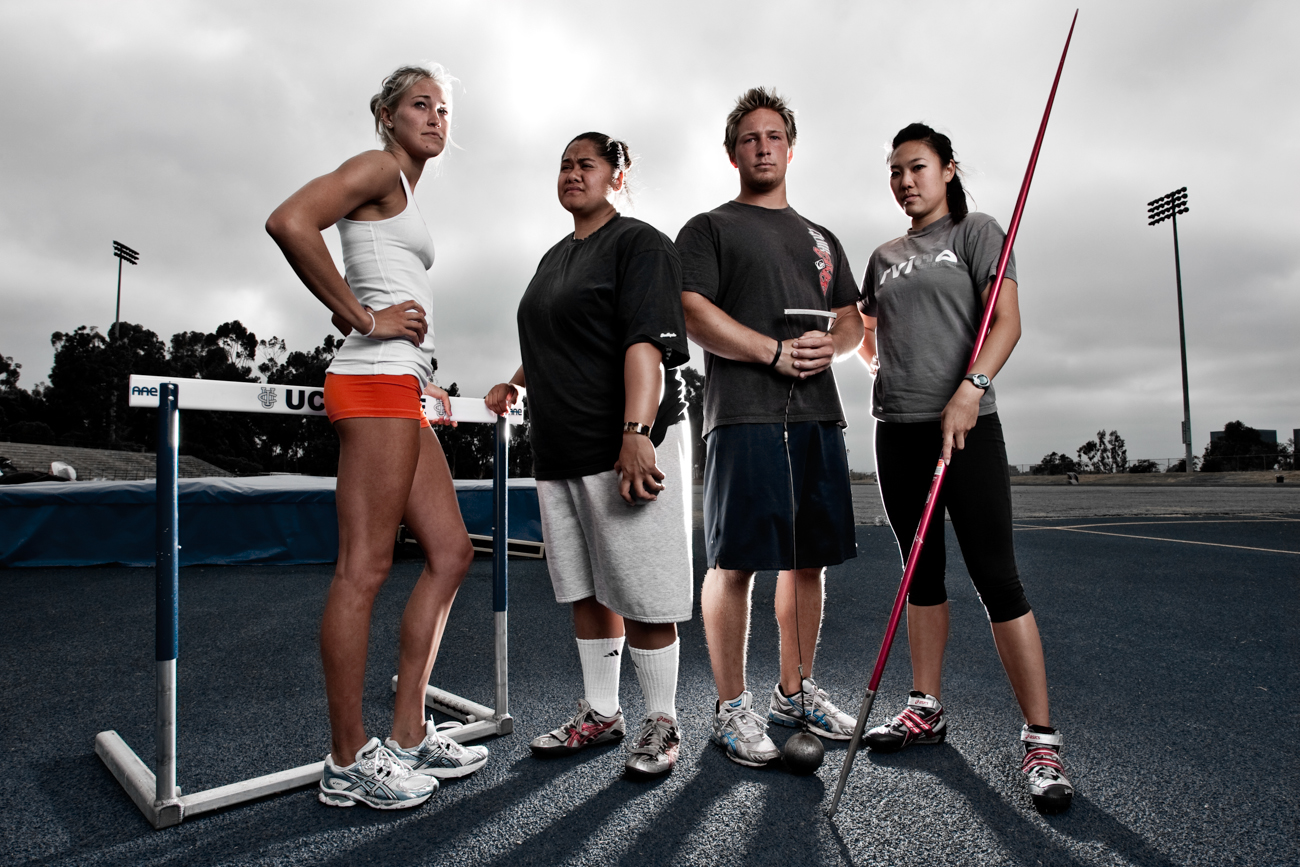 Canon 1D Mark IIn, 17-40mm @ 17mm, 100iso, f11, 1/250th