Don't call it a comeback…
It sure has been a while…I've been long overdue for a post on my blog, a photo job, and for a few cover shots in the latest issue of USA Ultimate. This is the first post since I graduated from UC Irvine and moved back up to the Bay Area and I had to make sure that it was decent.
In 2008 I quickly made a name for myself in the realm of Ultimate Frisbee photography, joining the big names such as Matt Lane, Scobel Wiggins, and Andrew Davis. Those were the names that overlayed the corners of all the photos that appeared in the magazines and around the web from when I first started playing in my Junior year of High School. I even have photos of myself on my hard drive from the 2005 California State Championship that were taken by Andrew Davis. But back then I didn't know the first thing about sports photography, even the workings of a camera were foreign to me. Back then it was all about playing hard, making an awesome play, and hoping that one of those big name photographers was at the tournament, or even better, shooting your game.
Shorty after emerging into the Ultimate Frisbee photography niche I found myself with experience shooting several national championships, a good amount of published work, and a bunch of connections. Most people in the Ultimate community have come to know me as "Scaughty Photography" and I have been getting requests to shoot tournaments all over ever since. For a short while I was traveling a lot which was great, but it all came to a pretty abrupt end when I decided to dedicate more time to school and work. It was even hard for me to shoot my own college team as I had other responsibilities as one of the captains. I had to turn down several offers to shoot College and Club Championships, which was definitely not an easy thing to do. I would get each issue of USA Ultimate and flip though the pages, looking at the photos and wondering if when I finished up school if I would break back into the Ultimate Frisbee photography scene.
It was a nice surprise when I got contacted this past year to shoot the 2010 Club Championships. I was a little hesitant at first but since I was still interviewing for jobs in the Bay Area and  my schedule was still flexible I decided to go. I definitely felt a little rusty going out to Sarasota this past Fall to shoot the 2010 Club Championships but having Matt Lane as a partner to get all the divisions covered helped a lot. Our styles also differ and complement each others which is great when we are trying to get a wide range of different perspectives. Matt has a great deal of experience shooting these large events and is always offering tips and advice.
I stayed with the Polar Bears. It was a fun trip and they took home the gold which made it even better.
I was gone for a little while….but don't call it a comeback. Next stop: 2011 Women's College Centex, March 26-27 (Austin, TX). And as always I am available for freelance work.
Click here to see all my photos from the 2010 Club Championships.
Below are the photos that I had in the Winter 2010 issue.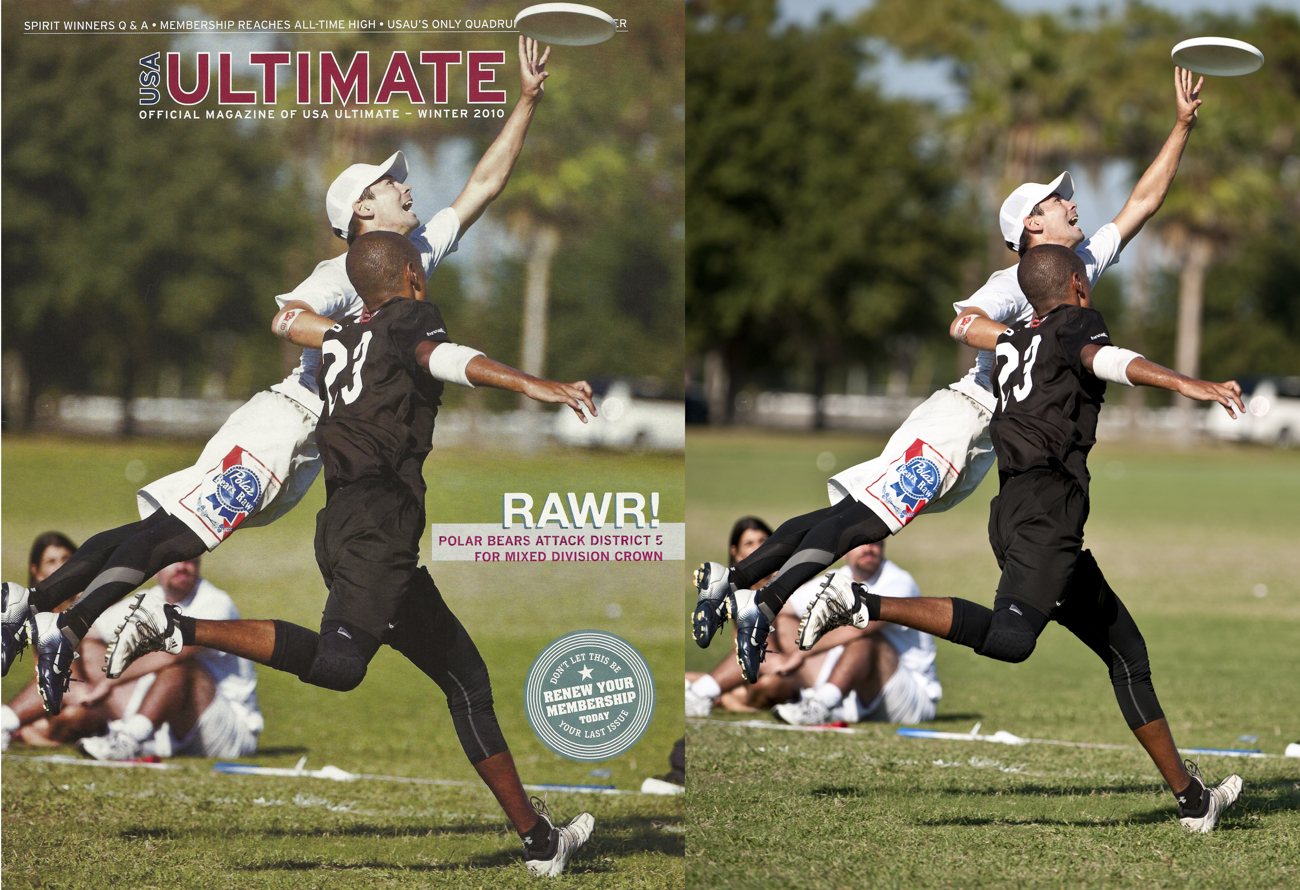 Polar Bears' Daniel Naruo makes the championship-clinching catch in the mixed division as District 5's John Korber defends.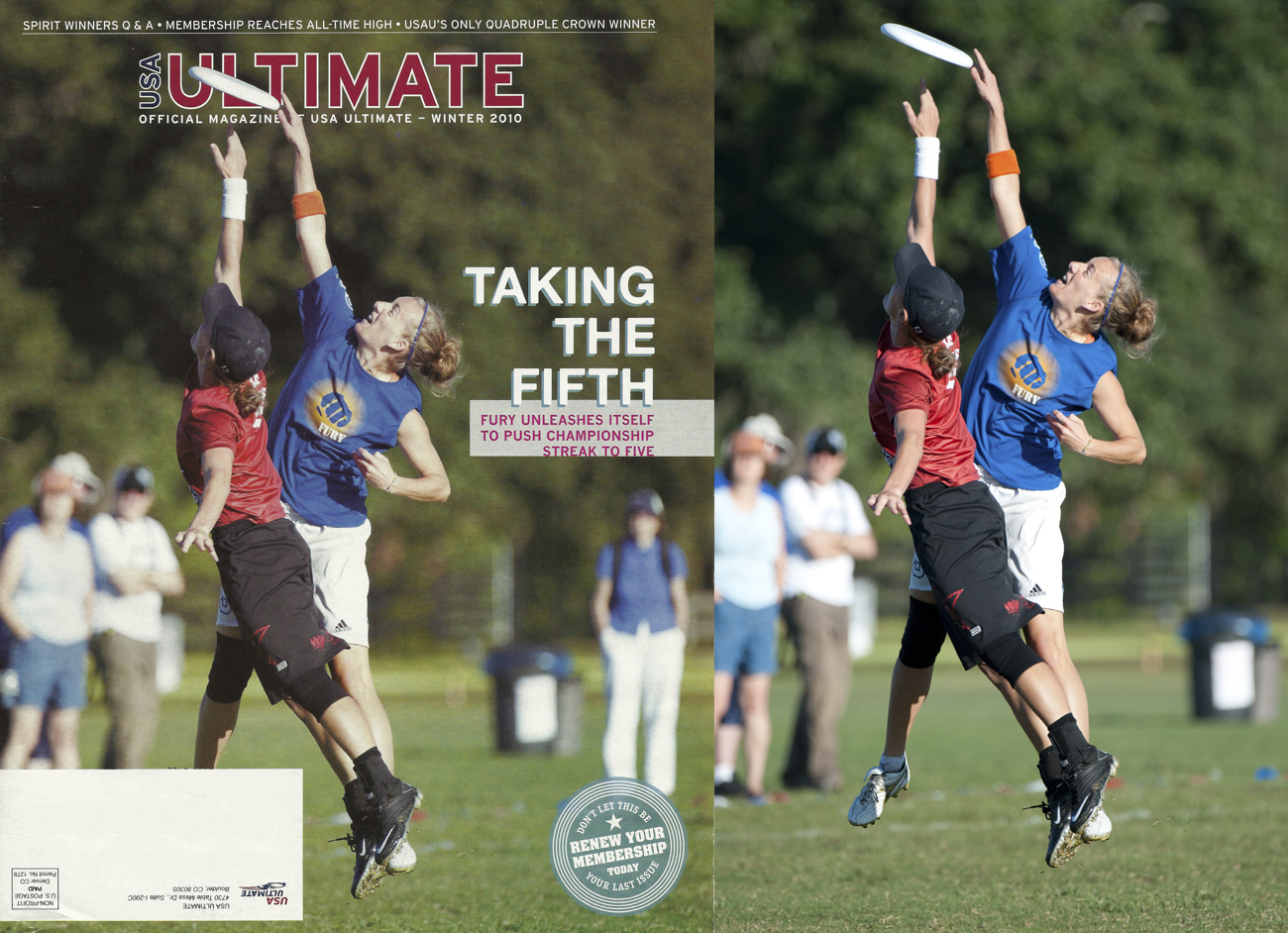 Fury's Alicia White makes a grab over Capitals' Alyson Walker in the Women's final.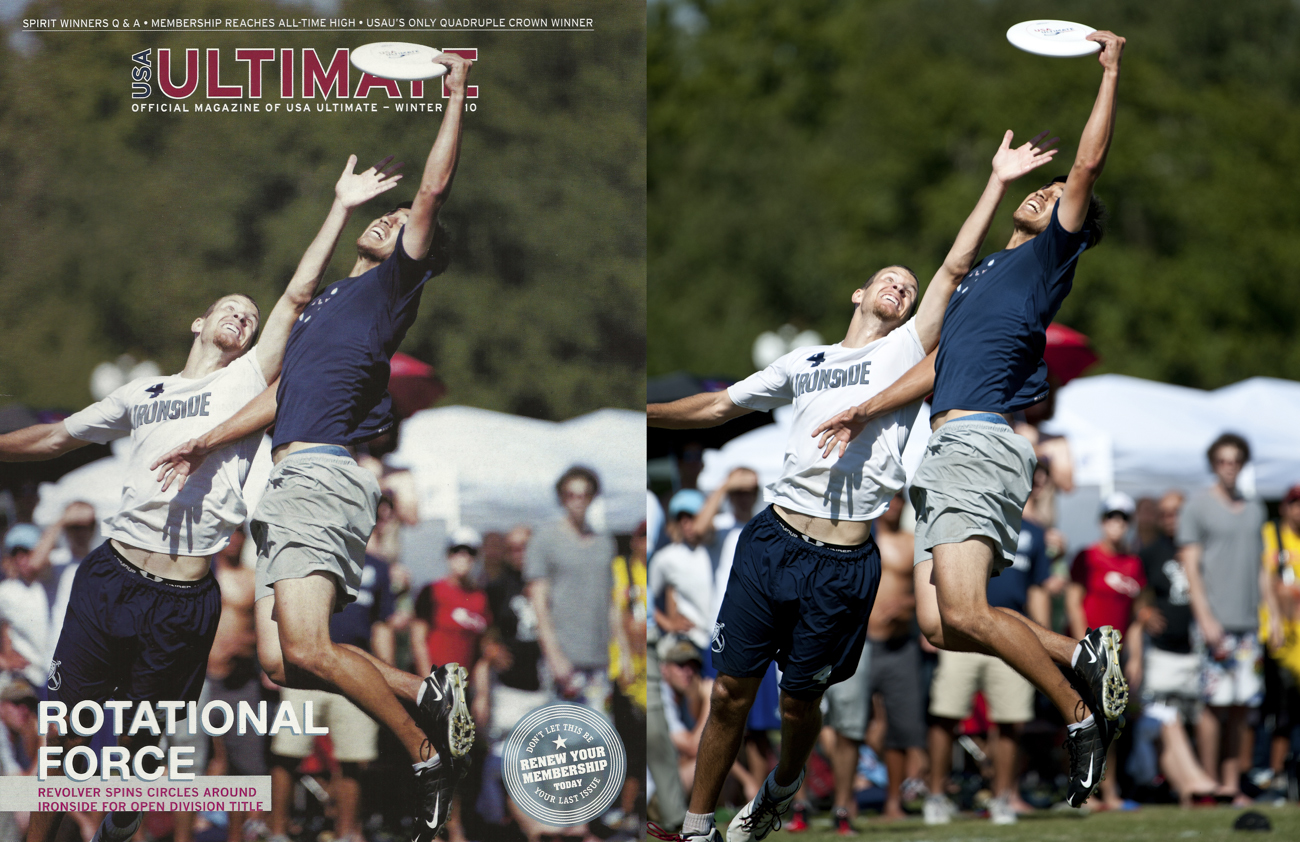 John Levy of Revolver skies over Ironside's Matt Rebholz in the Open final.
Ten Players get in on the action during the Revolver vs. Furious George power play pool matchup in Sarasota, FL.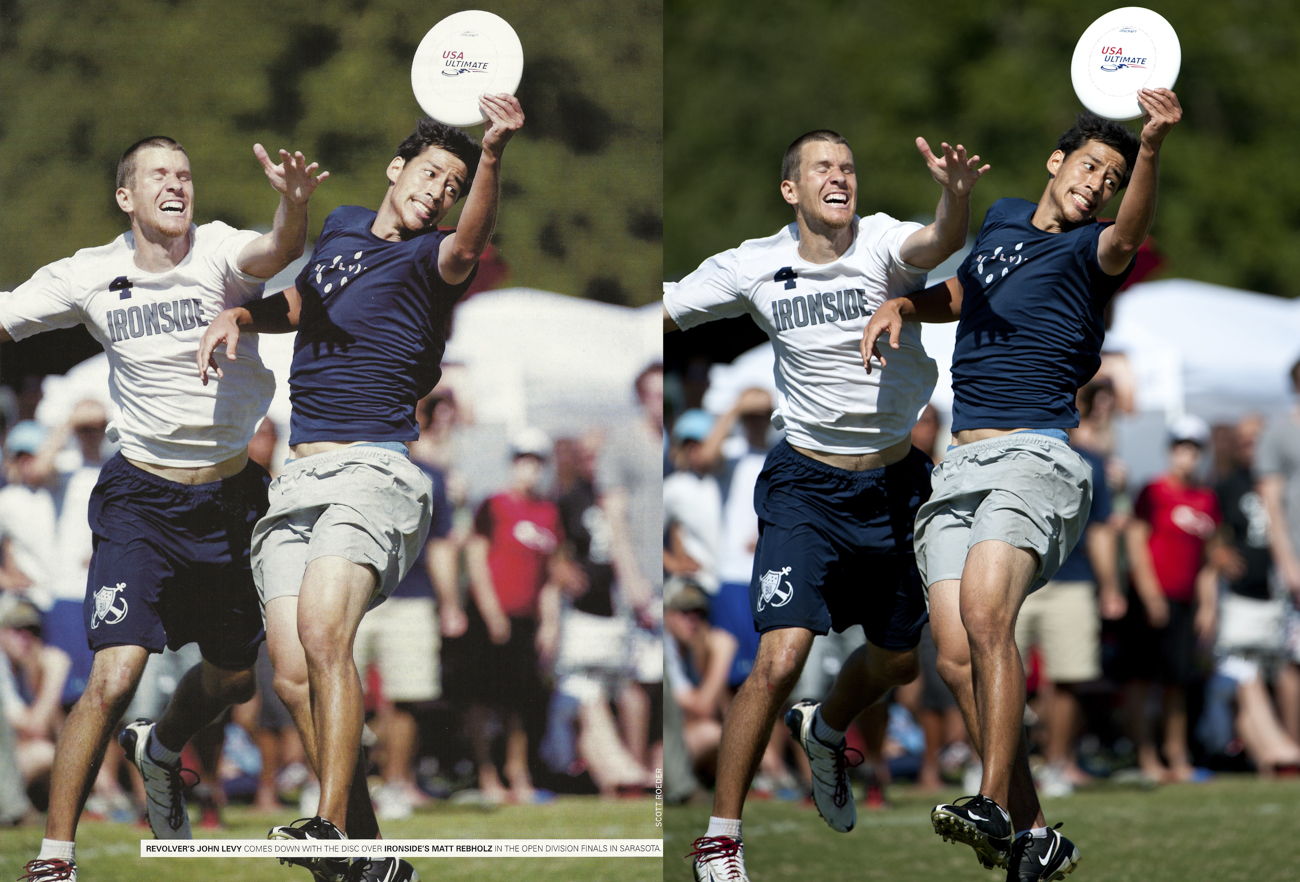 Revolver's John Levy comes down with the disc over Ironside's Matt Rebholz in the Open finals in Sarasota.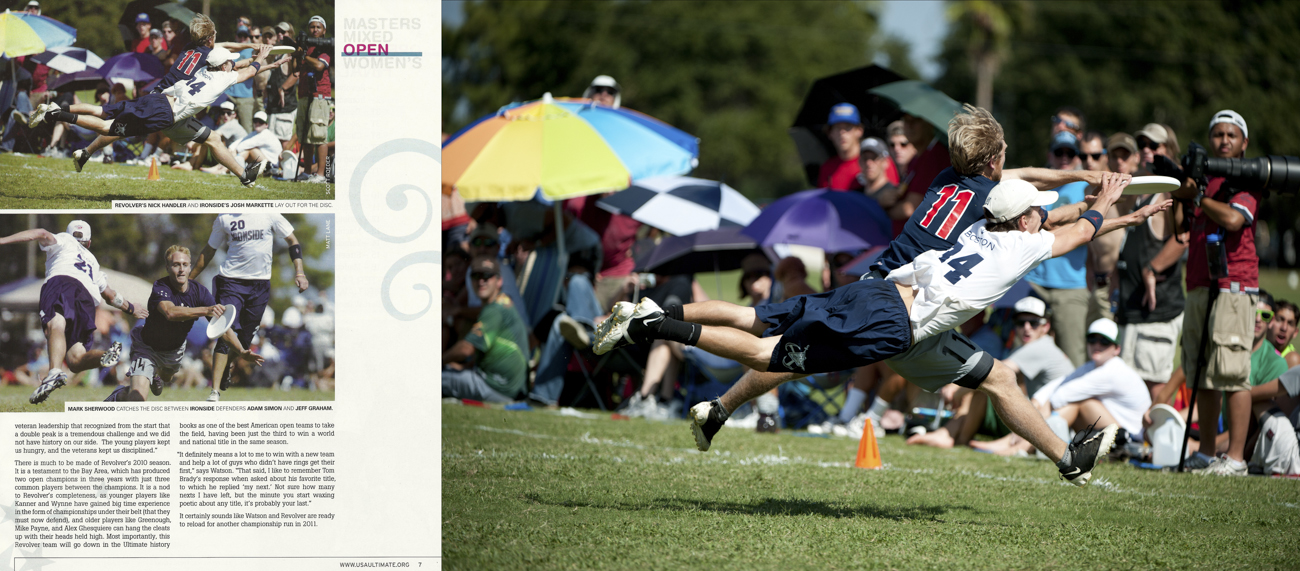 Revolver's Nick Handler and Ironside's Josh Markette lay out for the disc.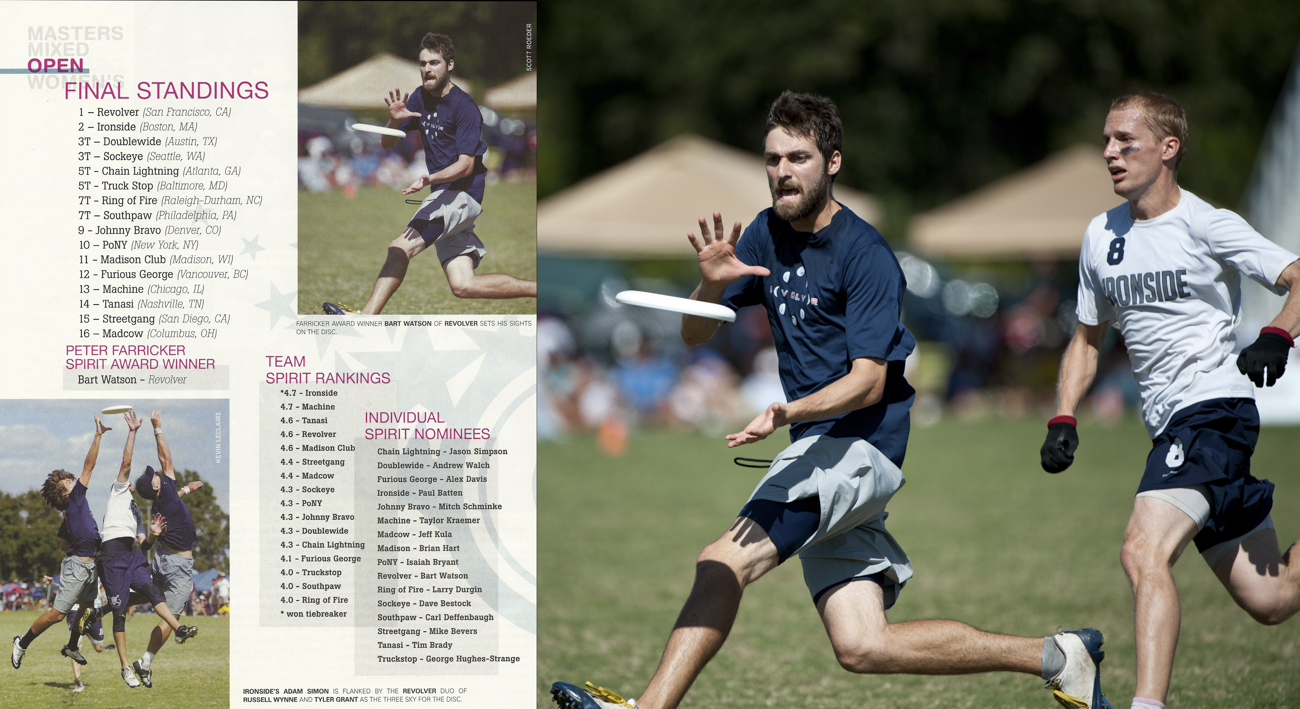 Farricker Award winner Bart Watson of Revolver sets his sights on the disc.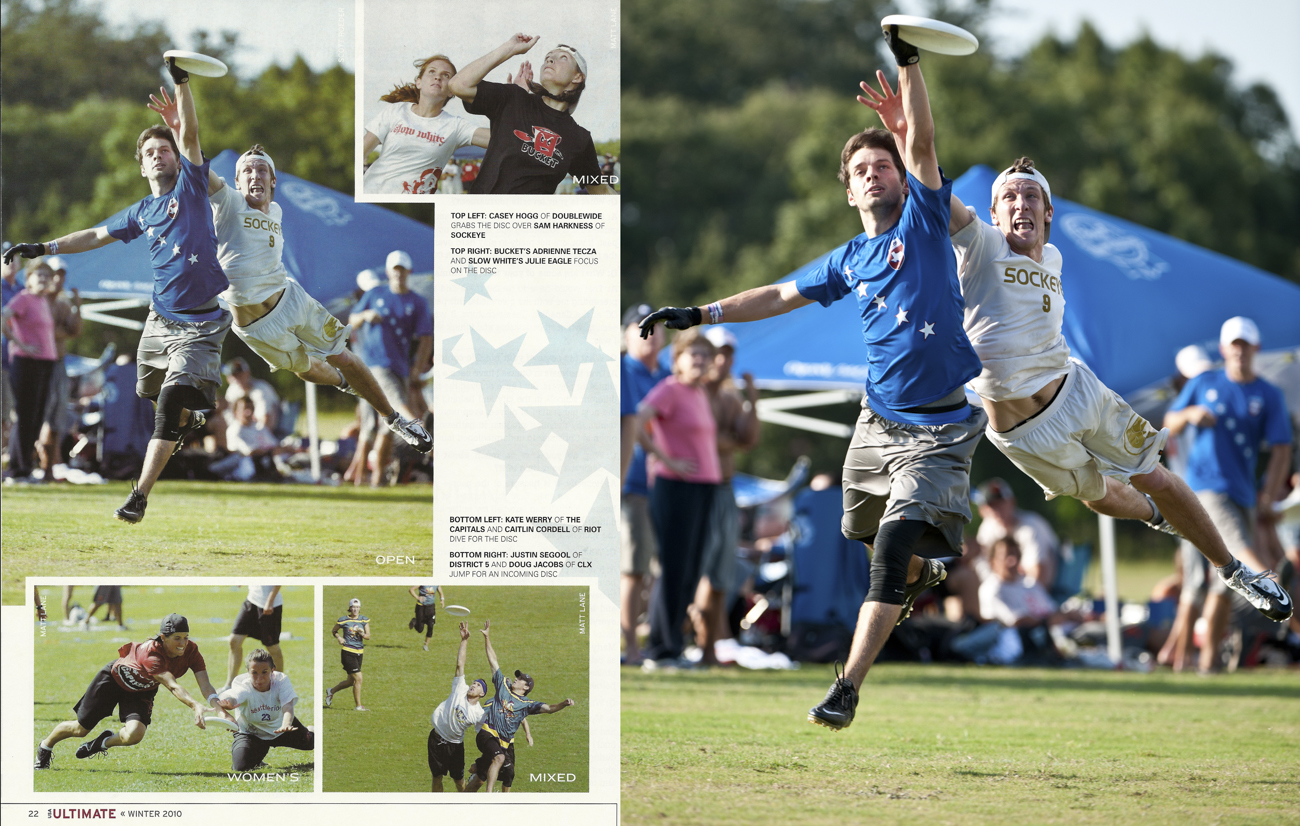 Casey Hoff of Doublewide grabs the disc over Sam Harkness of Seattle Sockeye.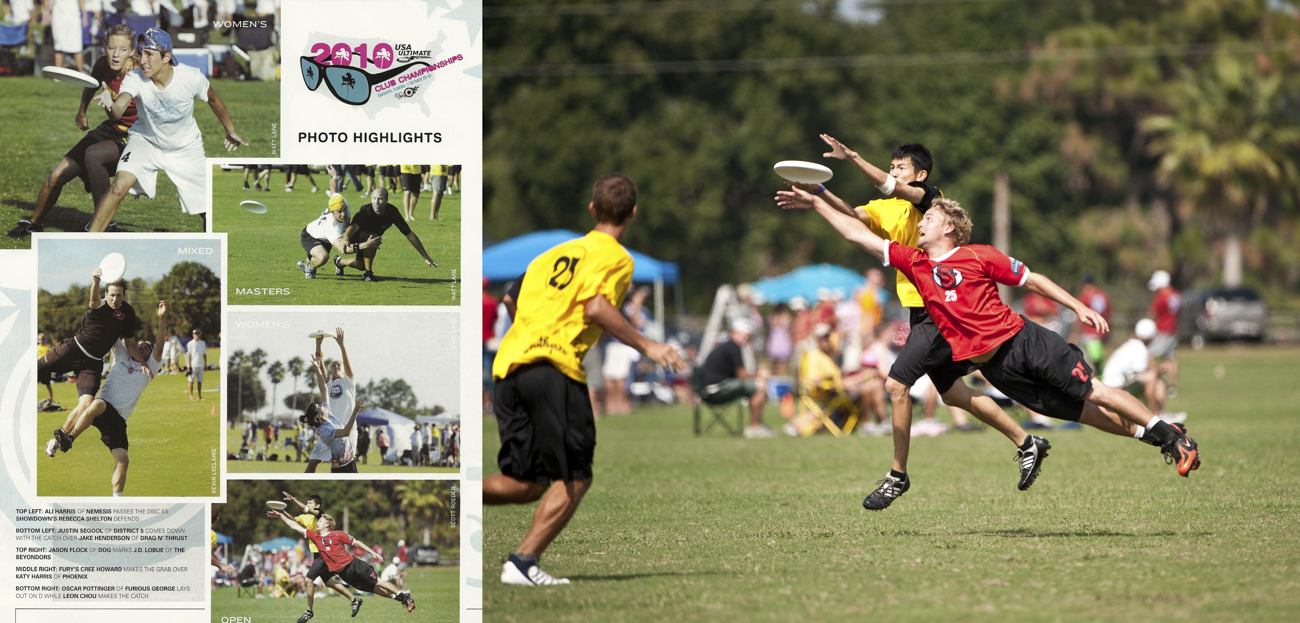 Oscar Pottinger of Furious George lays out on defense while Leon Chou makes the catch.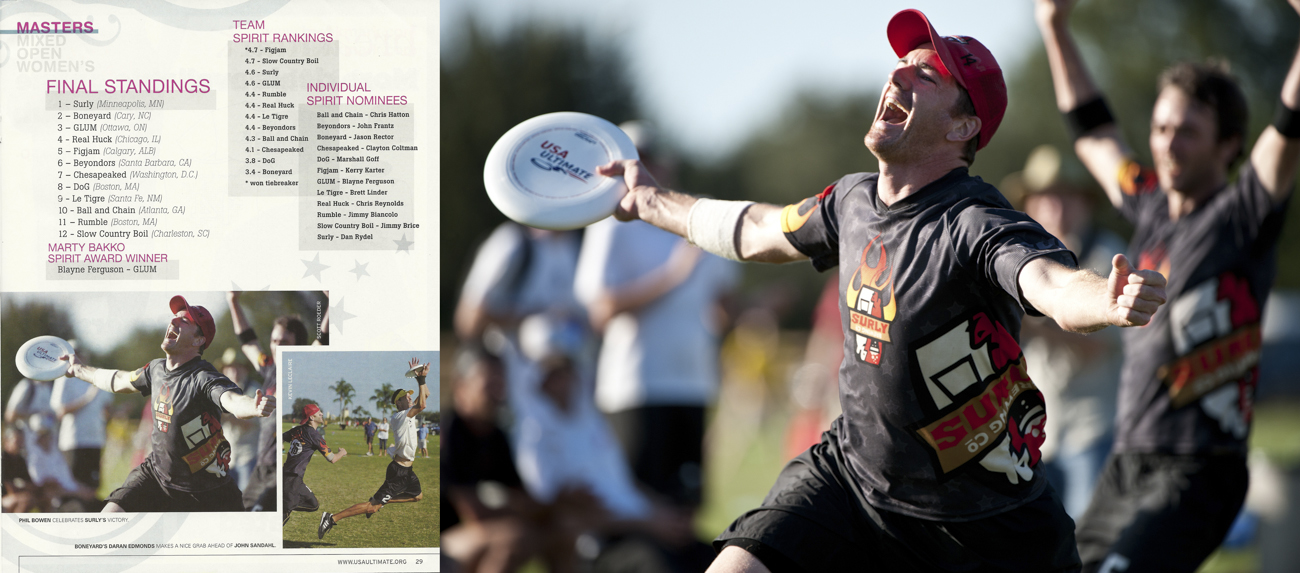 Phil Bowen celebrates Surly's victory in the Masters final.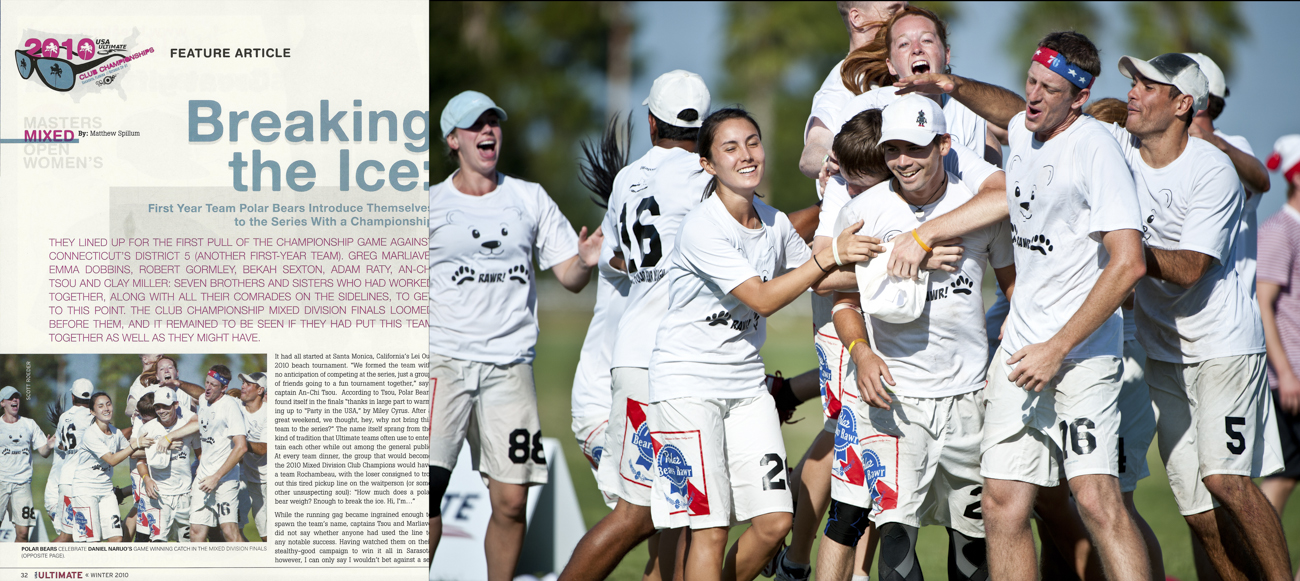 Polar Bears celebrate Daniel Naruo's game wining catch in the mixed division finals.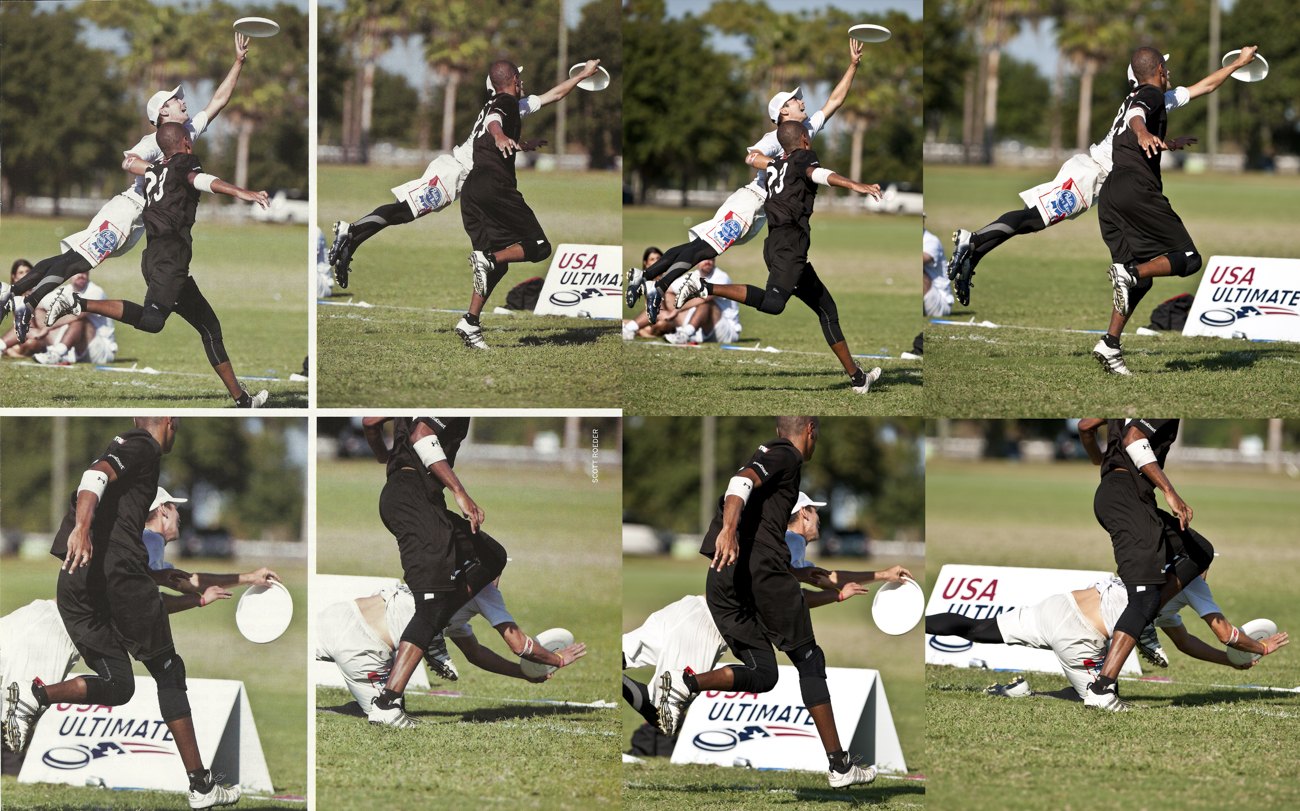 Daniel Naruo's game winning catch in the Mixed final.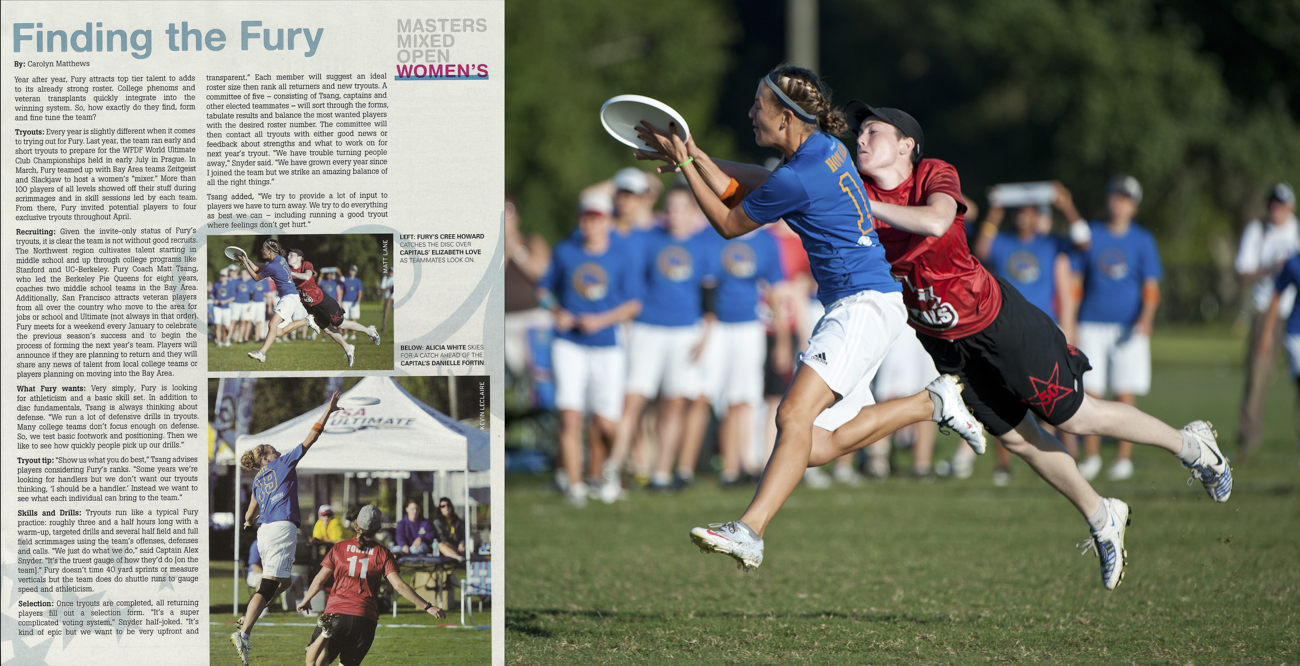 Fury's Cree Howard catches the disc over Capitals' Elizabeth Love as teammates look on from the sideline. *This photo was miscredited in the magazine.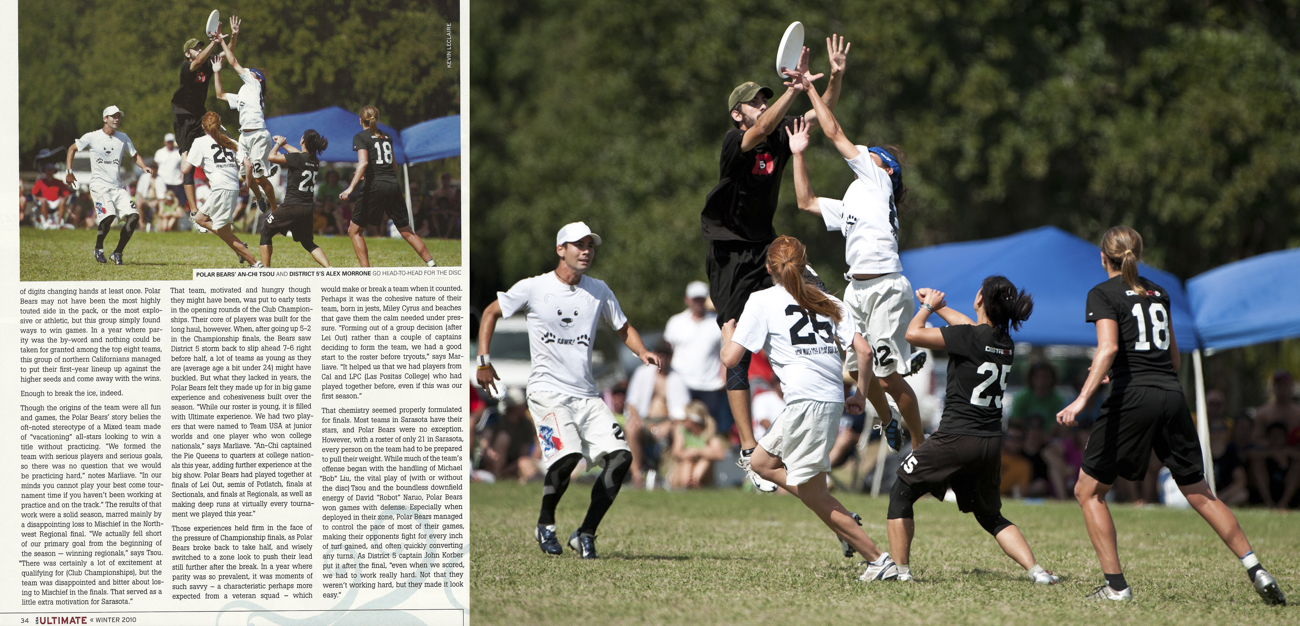 Polar Bears' An-Chi Tsou and District 5's Alex Morrone go head-to-head for the disc. *This photo was miscredited in the magazine.