lugging lights all over campus…last minute rugby portrait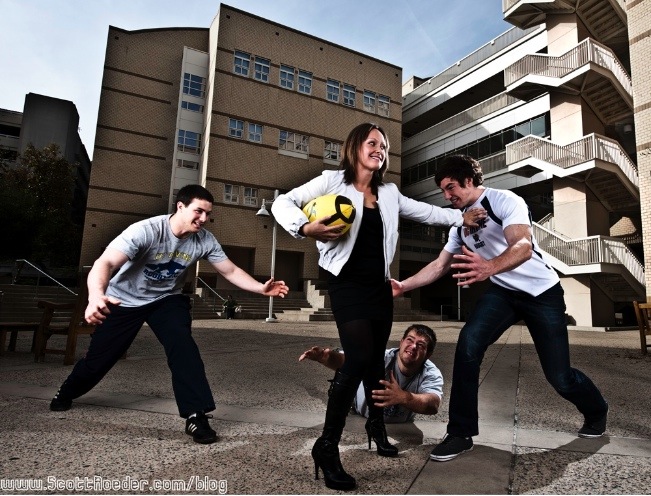 I was asked to take a photo of the UCI Men's Rugby team's new coach who also happens to be a professor at UCI. About 30 minutes before the shoot I loaded up my car with a ProPhoto 2400 kit and all my other equipment, with the help of my friend and fellow photographer Melissa Lee.
I was told to go to one of the social ecology buildings on campus where the coaches office is. It turned out that there was a nice plaza at the base of the building where I would have a lot of room to shoot. It was about 1:35pm so classes were in session, so the plaza was mine for about the next 30 min.
I quickly thought up how I wanted the photo to look. I wanted the coach to be in the middle, pretending to be running with the ball. Then I wanted the players to chasing her and trying to tackle or get the ball from her. When the players showed up I knew it would work. They were all huge guys and the coach was a much smaller woman.
I first did a shot with the coach by herself just incase the other photo didn't end up working. I shot her with two softboxes on the side, an umbrella in the front and a speed light from behind for some rim light. Then I edited it as a composite to get all the equipment out of the photo.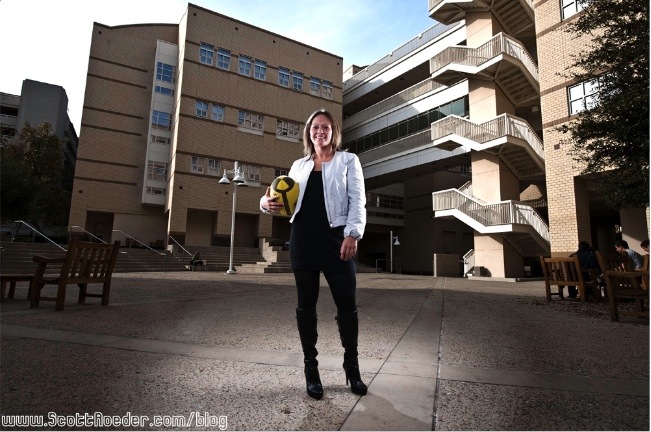 Nikon D3, 14-24mm @ 20mm, 100iso, f/8, 1/250, manual
After I got that photo done I brought in the players and explained to them the parts that they would be playing. I really tried hard to connect with them and make it an easy and fun experience with them. I did my best to get them involved and even had them growling and screaming to really get the right emotions on their faces.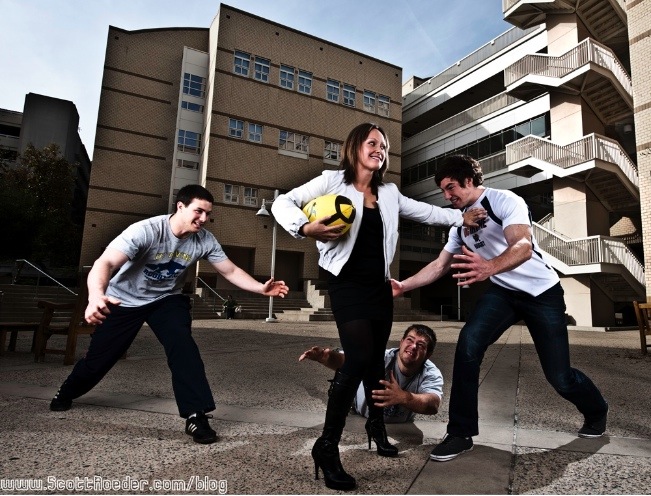 Nikon D3, 14-24mm @ 20mm, 100iso, f/8, 1/250, manual